What are Declan FlashCards Channels?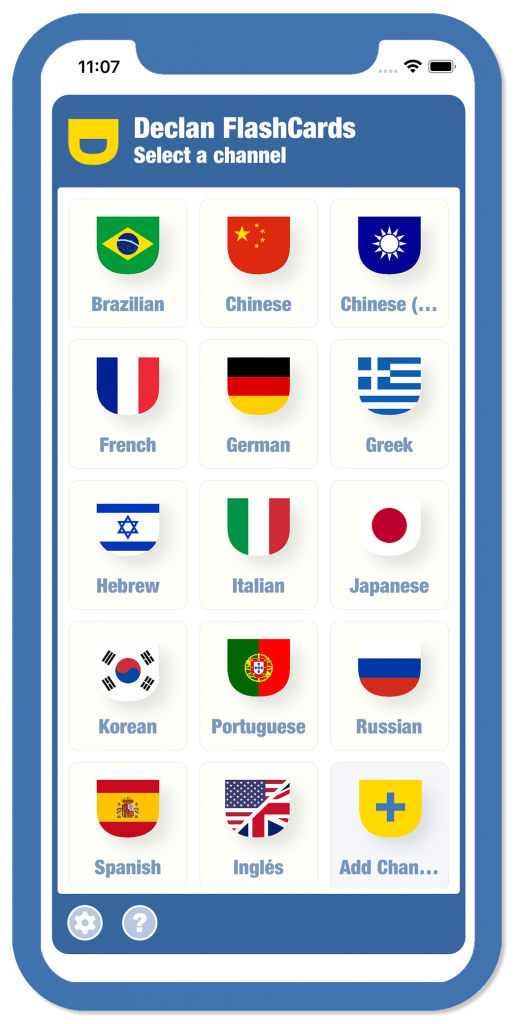 Declan FlashCards is an app for iPhone/iPad and Android devices that helps foreign language students learn vocabulary.
The app comes 'pre-loaded' with 14 language channels each containing 1000s of words and phrases.
The Channels feature allows schools to create their own bespoke channels containing course-specific content which students can load into their copy of Declan FlashCards.
How do students load a channel?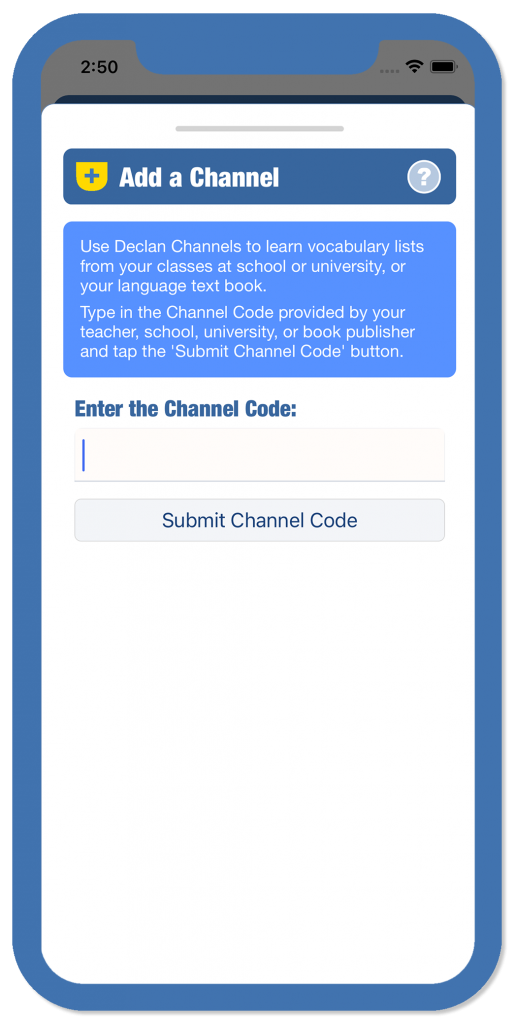 Students add a channel to Declan FlashCards by entering a "Channel Code" provided by the school.
The channel's details are then presented and the student can choose to install it.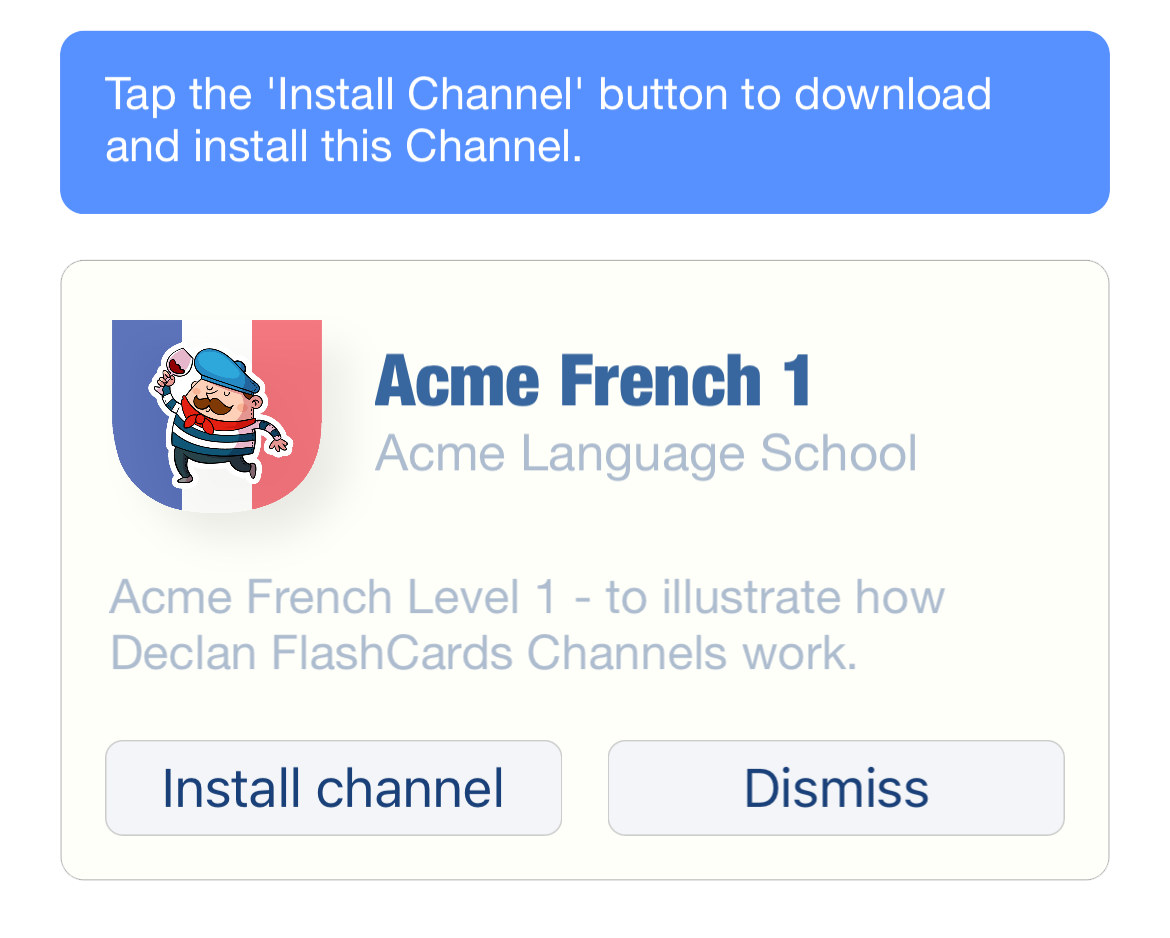 Using a Channel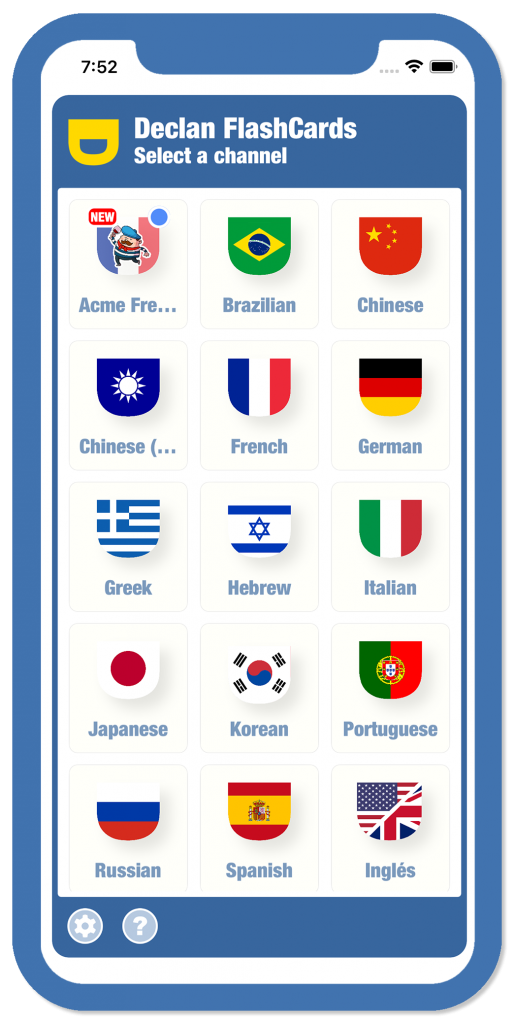 The newly installed channel will appear above the pre-installed channels.
Tap the channel icon and the list of topics or lessons will appear.
Within each lesson are the words and phrases which can be reviewed and then the exercises can be attempted.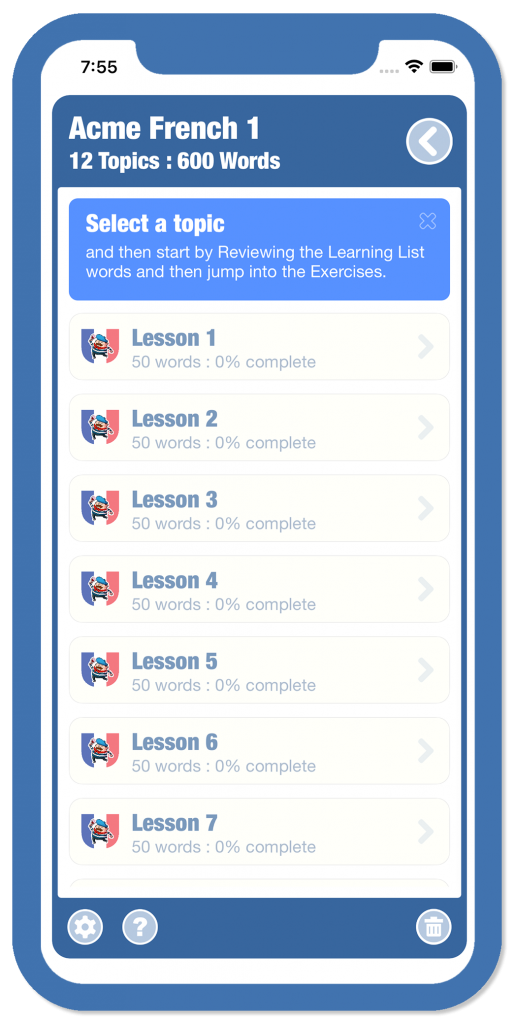 Creating your channels
Schools work with the Declan Software team to set up channels.
The Declan Team takes the course content provided by the school (word lists and audio recordings), and compiles these into a Declan FlashCards Channel.
If required, we can assist with putting together wordlists, as well as help with producing the corresponding audio recordings using professional native-speaker voice artists.
Channels also require an icon – usually the school or university logo or shield.
Copyright and intellectual property protection
All word lists and audio provided by the school remain copyrighted to the school, with Declan Software having only distribution rights.
The channel materials are delivered to the app in an encrypted format to ensure intellectual rights are protected.
Additionally, offering this material via an app rather than a website further guards against copying.
The Channel codes themselves can be configured to prevent unwanted sharing and copying of the course material. These channel codes can be specific to each student, can be single-use, can limit the number of devices the channel can be installed on per code, and can also be set to expire.
What does it cost?
The institution can choose one of two options for how access to its channels is priced by Declan Software:\
1. An annual subscription paid by the institution based on the number of students using the institution's channels, or
2. An in-app subscription paid by the individual app users – the students.
For pricing details please contact us.
There is no charge to the school for the work Declan Software does compiling channels, or for hosting them on our servers.
If assistance is required to record audio, these costs would be covered by the school.
Want to know more?
Declan FlashCards can be downloaded for free – for iPhone/iPad from the Apple AppStore or for Android from the Google Play AppStore:
Just search for "Declan FlashCards".
Once you have installed the app, tap the yellow "+ Add Channel" button at the bottom of the page with flags and enter the code:
g83-keu-fic-hrv
or a demonstration of how Declan FlashCards Channels work.
Contact me
If you have any questions, please don't hesitate to contact me at my private email:

If you'd like to discuss how Declan Channels could work for your institution, I am very happy to organise a call, or you can ring me directly on

Looking forward to hearing from you.