French has long been the most popular language learned by English speakers – including in Britain, Canada and the United States. Indeed, it has among the highest proportion of non-native speakers of all major languages.
French is among the easiest of languages for an English speaker to learn. The United States Foreign Service Institute ranks French in its second tier of easiest languages to learn for English speakers.
French is easy to learn because:
There is a great deal of shared vocabulary thanks to William the Conqueror and the Norman conquest in 1066. Indeed half of English vocabulary has French/Latin roots.
All French nouns have one of two genders – male or female. While at first this might seem daunting it quickly becomes natural with the gendered article ('le' or 'la') learnt as part of the noun. So rather than just chat ('cat') we memorize le chat ('the cat'). And 'la chat' just sounds wrong.
French grammar, though somewhat irregular, is not that challenging despite the much-feared subjunctive mood.
Pronunciation can be challenging with quite a few sounds that aren't found in English. But the French are so used to hearing their language spoken with a foreign accent that this is rarely a barrier to being understood.
The two levels of politeness (the vous and tu forms) are quite straight forward even though getting comfortable with the situations in each should used can make an English speakers as bit nervous.
Oral comprehension can present difficulties – that is understanding a native speaking talking. The French language has a lot of contractions and small particles which can be difficult to catch, especially when spoken quickly (and perhaps with a regional accent). For example 'il y en a un' which means 'there is one of them'.

---
Ready to learn French grammar step-by-step?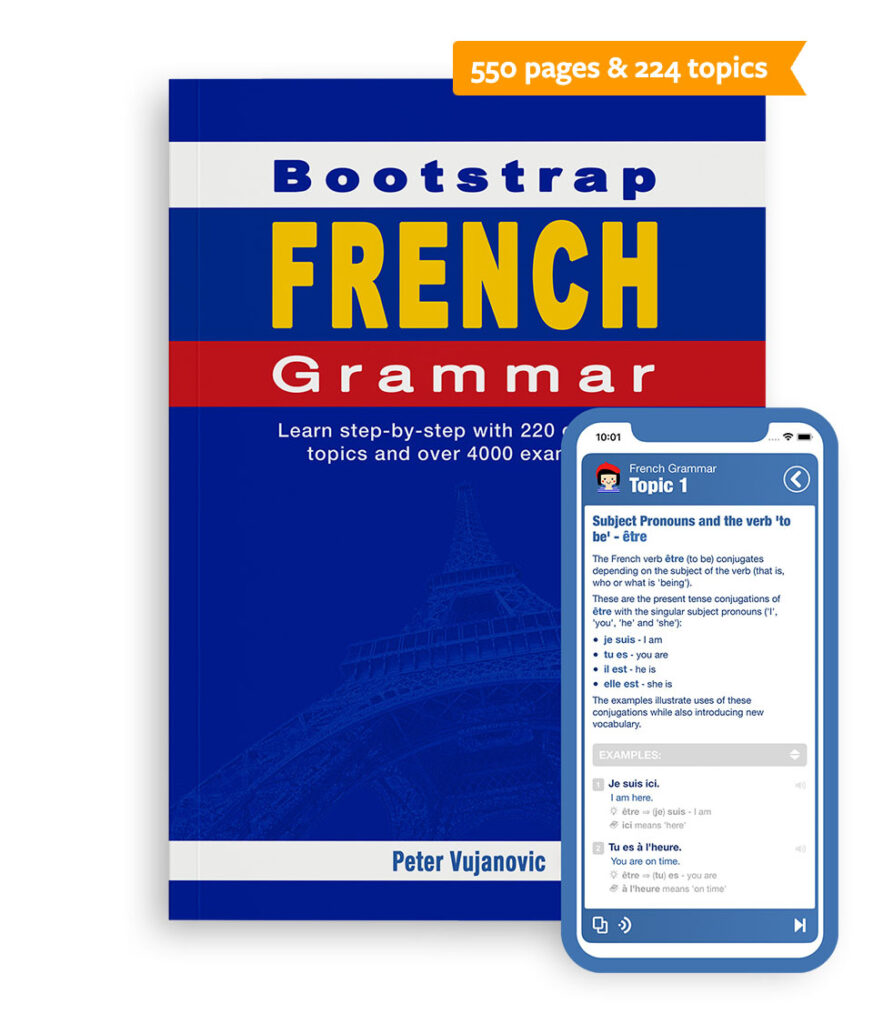 Bootstrap French Grammar
A 550-page book and accompanying mobile app.
🇫🇷 Step-by-step introduction to French grammar in 224 topics.
🇫🇷 Over 4,000 annotated examples.
🇫🇷 High-quality audio pronunciations via the app.